Every single driver in Greenville, New Bern, and Wilson knows that their vehicle requires fresh oil every now and again to perform as smoothly and efficiently as possible. An oil change is a crucial service that your vehicle requires. It's also important to know the exact type of oil your vehicle requires.
You may have heard about conventional oil and synthetic oil, but do you know how they differ? If you'd like to know, just check out the oil comparison below that our team at Pecheles Volkswagen did to provide drivers like you with the necessary information one of your vehicle's most vital fluids.
What is Conventional Oil?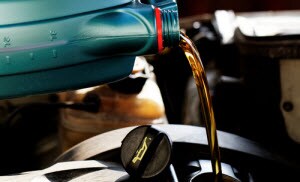 Conventional oil has been the standard for some time now, but it's best when used with older model vehicles that don't have a lot of miles on them. It features a few additives that offer sufficient protection, as well as provides lubrication to your engine and its moving parts. However, this oil still features most of its impurities, which means that while it can help keep your engine cool, it's susceptible to breaking down and losing its viscosity or ability to lubricate the engine parts.
Due to its relatively easy breakdown process, conventional oil requires frequent changes if you want your vehicle to perform at its best. Most automotive experts and technicians recommend that you have your conventional oil changed about every 3,000 miles. For a more accurate time frame, please refer to your owner's manual.
How Synthetic Oil Works
Synthetic oil was designed for newer cars with modern engines. It provides exceptional lubrication and protection to your engine and its components. It's made from crude oil, but it's actually broken down into its basic molecular structure to help remove the various impurities that can be found in conventional oil. Once the impurities are removed, additives are then included to give the oil better protection for varying temperatures.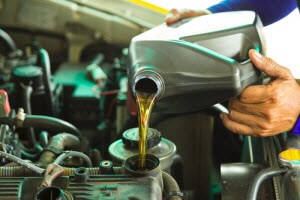 Due to its purification process and its removal of impurities, synthetic oil works best in sports cars, newer models, and high-end luxury vehicles. It can even work with varying driving styles. Such driving styles include severe conditions involving towing or off-roading, stop-and-go commuter driving, and drivers who live in climates with strong winter and summer seasons.
Synthetic oil provides extra strength and lasting power, compared to conventional oil. It even takes longer to break down, making it last longer than conventional oil, which results in less frequent oil changes. Most cars can get about 6,000 miles on synthetic oil before requiring a change. However, if your vehicle takes synthetic oil, check the manual to see how long the recommended intervals are.
Are There Other Types of Oil?
Even though conventional and synthetic oil are the most common, there are actually other types of oil out there that are specifically designed for different vehicles. Make sure you check your owner's manual to see if your vehicle requires any of these oils listed below.
Synthetic blend: This oil is a combination of synthetic oil and conventional oil. It provides the necessary protection that synthetic is known for, but it can actually work for newer models, as well as older ones. Due to its properties of both oils, it can help prevent damage from long engine running durations and extreme weather conditions.
High mileage oil: This type of oil is meant for vehicles with more than 75,000 miles. Given the number of miles on the vehicle, both synthetic and conventional oil would work. Still, this specific oil provides the necessary protection and lubrication to keep the engine in ideal shape.
Which of These Oils Is Right for Your Engine?
While all these engines offer a great deal of protection to the vehicles that they're designed for, you don't want to take any risks and pick one randomly. You should refer to your vehicle's manual to find the right oil for your vehicle and how many miles you can get out of it, according to the manufacturer.
Would you like more information on the different types of oil for your car? Contact the Volkswagen service center at Pecheles Volkswagen near the Greenville, Wilson, and New Bern areas. Talk to one of our certified technicians today!