Volkswagen and Ford are two of the most notable, longest-running car brands in the world. Around the Greenville, New Bern, and Wilson areas, you're bound to see plenty of each. However, which is the more capable?
In this comparison, our team at Pecheles Volkswagen examines the 2017 Volkswagen Passat and the Ford Fusion to determine which has the most benefits to offer.
Passat vs Fusion: Performance Specs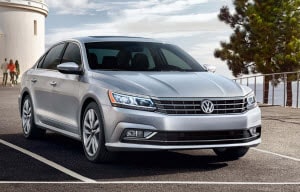 When it comes to crafting an effective powertrain, Volkswagen and Ford seem to have two different approaches. Where Volkswagen aims for sleek and streamlined engines, Ford aims for sheer brawn. For this reason, the Passat and the Fusion have some noticeable differences.
In the 2017 Ford Fusion, you'll find a 2.5L inline 4-cylinder engine and a 6-speed automatic transmission. With this combination, you'll produce a fair amount of torque at 175 lb-ft, and still maintain 32 highway MPG and 21 city MPG.
However, the 2017 Volkswagen Passat comes with a smaller 1.8L inline 4-cylinder engine. Thanks to turbocharging and intercooling, this powertrain produces 184 lb-ft of torque. And with its own 6-speed automatic transmission, it can maintain as much as 34 highway MPG and 23 city MPG.1
Staying Comfortable in Your Sedan
In terms of size alone, the Passat and Fusion have quite a few similarities. For instance, each car comes with roughly 102 cubic feet of total passenger space, as well as a 16-cubic-foot trunk. However, when you start to break down amenities, the differences shine through.
Cloth trims are standard in both the Passat and Fusion, as well as 6-way adjustable driver's seats. However, the Passat adds in some extra features, such as its Climatronic® dual-zone automatic climate control system.
The Passat also adds in some extra entertainment features. While USBs and auxiliary jacks can be found in each car, the Passat adds an SD card reader to its touchscreen audio system. This addition can allow drivers to take thousands more songs on the go.
2017 Volkswagen Passat vs Ford Fusion: Safety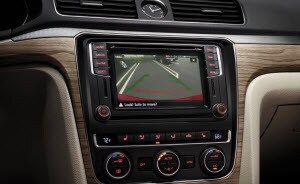 Safety is a top priority, no matter what kind of car you're driving. However, it's especially important when choosing a sedan.
In this respect, the Volkswagen Passat has quite a bit to offer. It starts off with standard features like stability and traction controls. However, it then goes the extra mile with Hydraulic Brake Assist and Forward Collision Warning with Autonomous Emergency Braking.
The Fusion has a couple shared features, like stability control and its own rear camera. However, it lacks the more advanced safety technologies found in the competitor. For this reason, the Fusion may be more vulnerable in the event of a collision.
Finding the Right Sedan for You
The 2017 Ford Fusion is a solid choice for the Greenville, New Bern, and Wilson areas. However, it clearly pales in comparison to the more advanced 2017 Volkswagen Passat.
If you'd like to learn more about the Passat, feel free to get in touch with the Pecheles Volkswagen team. Contact us today for more information!
1. 23 city/34 highway MPG (2017 Passat 1.8L, 6-speed automatic transmission). EPA estimates. Your mileage will vary and depend on several factors, including your driving habits and vehicle condition.