Volkswagen has held a longstanding reputation for developing some of the most stylish, high-performing vehicles on the market. From sedans to a small crossover, capability and comfort never cease.
Now, Volkswagen is expanding their lineup with the 2018 Volkswagen Atlas. This bigger, more powerful SUV will offer drivers more amenities and engine enhancements than they've previously seen.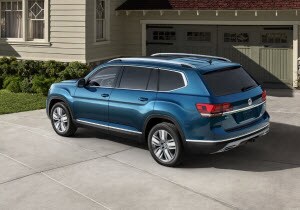 To show our Greenville, New Bern, and Wilson drivers what they can expect from this vehicle,1 our team at Pecheles Volkswagen has put together this review.
The High Performance You'd Expect
Up to this point, Volkswagen has set a pretty high standard for how their vehicles should handle and perform. The 2018 Volkswagen Atlas aims to take this to the next level.
Coming standard to the Volkswagen Atlas powertrain will be a 3.6L V6 engine, capable of achieving 276 horsepower. Eco, Normal, and Sport modes are then added so you can customize your experience further. With that kind of power, you're expected to be able to haul up to 5,000 pounds of cargo.
One of the goals of the VW Atlas is to be an overall more engaging drive. That's why Volkswagen has worked hard to improve both the steering wheel function and transmission response.
This increased response will be a great complement to the 4MOTIONall-wheel drive. With this drivetrain, you can safely navigate any number of driving surfaces.
2018 Volkswagen Atlas: New Safety for a New Year
In addition to being built with the enduring frame typical of any Volkswagen vehicle, the 2018 VW Atlas will also feature a cadre of safety technology. This array begins with the advanced network of sensors placed around the car.
This network is used in features such as Pedestrian Monitoring and Front Assist. While Pedestrian Monitoring watches to ensure you don't hit any people or foreign objects, Front Assist will keep track of your following distances. If either detects a collision, Autonomous Emergency Braking will engage.
Blind Spot Monitoring will also be available in the Volkswagen Atlas. This feature will let you know if any other cars have drifted into your blind spot, preventing unnecessary accidents.
Major Interior Space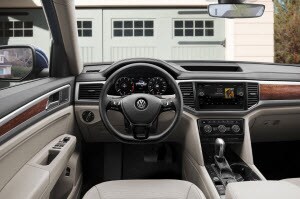 If you're choosing an SUV, then you need extra space, either for cargo, equipment, or your family. And the 2017 Volkswagen Atlas will have room for all three.
The SUV comes with seating for seven, thanks to the easy-access third row seat. Unlike other SUVs where the third row is cramped, the Volkswagen Atlas aims to offer ample room for rear passengers. And with the easy-folding second row seats, getting in and out will be a breeze.
To add to your already generous trailering capacity, the VW Atlas also offers plenty of room in the back of the vehicle for cargo. Expect 96.8 cubic feet of space, ensuring that passengers never have to sacrifice room for luggage.
Stay Up to Date on the 2018 Volkswagen Atlas
With this incredible SUV still forthcoming, our Greenville, New Bern, and Wilson customers may have a few additional questions. To learn more about when the 2018 Volkswagen Atlas will be available and what features you'll find, just contact our team at Pecheles Volkswagen. We'll keep you in the loop!
1. Model not yet released. All specs mentioned herein have been cited from the Kelley Blue Book article 2018 Volkswagen Atlas 3.6L VR6 4Motion First Review and are subject to change by the manufacturer.